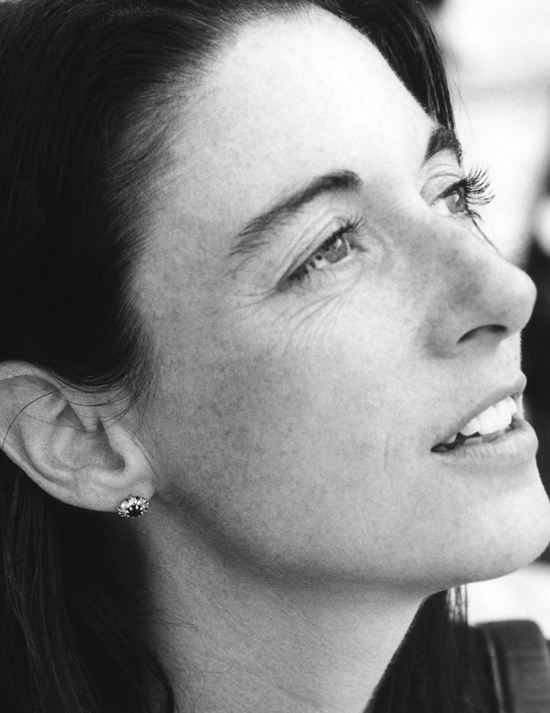 She peers out from inside her father's sheepskin coat on the cover of his debut solo LP,
McCartney
. It's 1970 and she's the firstborn child of one half of perhaps the world's greatest songwriting partnership. So enters Mary McCartney into the world of photography: as a subject.
"I was born and bred in London," says Mary, "and I'm still based in London, but I've recently been in Sweden where I've currently an exhibition, and in Sardinia where I was doing a shoot for Mandarin Oriental."
Mary McCartney, 42, as elder sister to Stella and brother James, with an older half sister Heather, has quietly forged a career as a photographer specialising in portraiture, with A-listers of the likes of Ralph Fiennes and Jude Law happy to sit for her.
"I grew up around photography, watching my mother [Linda McCartney] taking pictures," says Mary. "She and my dad collected great photography books, so I saw those from an early age. They were beautiful vintage black and white prints. So you'd be right in saying my mum got me into the craft.
"I worked with my mum in her archive, helping her edit the projects she was working on, but I've had no formal training, except for a very short course on how to use an SLR to establish the basic principles of exposure and film speed."
A passing car drowns out our conversation. 'In the old days when I liked to do interviews, I'd go to the Electric in Notting Hill, but that was noisy too,' she says, laughing. "I still use film cameras for personal or exhibition work. But when I'm doing commercial projects I'll use digital. I like my photographs to have the look of having been lit by natural light, despite the necessary higher production values."
As a local, does she think London's art scene remains vibrant? "Yes, there are some amazing painters out there at the moment. I was just looking at the exhibits for the National Portrait Gallery Award [for 2012] which were beautiful. There is definitely a public enthusiasm and hunger for art, and the talent is out there, but it's very difficult to get noticed these days. There are a lot of people very passionate about what they're doing.
"But how these artists get noticed will be the interesting thing, because gaining exposure is difficult.' The reason for this? 'The modern need for branding oneself might be the issue. Ten years ago there was no need for it," says Mary.
Ten years ago London was a different place, I venture. "Yes, you can see it when a shop closes down and you hope that something interesting will replace it, but what comes along is usually a chain coffee shop.
"This kind of loss is also evident in places like Soho which has lost a lot of interesting places such as The Colony Room. But thank god places like Bar Italia are still around. Bar Italia is almost like National Trust property! If that were to close down then I'd be very sad. When socialising in London I prefer to find interesting, atmospheric little places," she says.
"When I was nine, we moved out of London and then I moved back when I was 18. I got a job as a picture researcher in Soho at Omnibus Press. I wasn't actually taking pictures at this time. But when I got my first commission I thought that that was it, but in reality it took me a long time to build up my confidence and style. I learn about myself through how I take a picture and how I approach each job."
And how has she arrived at her photographic style? "I like my subjects to be relaxed, so my style is candid and informal. If I'm too overbearing they can look startled; I want people to reveal themselves. It's difficult to have subjects relax before a camera. When I started out I was in the background, observing, but now I'm engaged upfront, directing shoots and in control."
Can 'the eye' for taking photographs be taught? "Basic principles of composition can, but I think I've inherited my [photographic] eye. Most of my family can take good pictures. I grew up assuming everyone could take good pictures because of it, then I realised not everyone can. I was watching someone last week holding their camera at arm's length and it seemed as if they were intimidated by the camera itself," she says.
"My dad [Paul McCartney] is very encouraging. He has some of my work up on his walls, which is a good sign. I look for his opinion, because he has a good eye and appreciates photography and art. He worked with my mum in the same way too, so he's used to it."
Inspiration can be tricky for a photographer constantly at work. "I try and balance my commercial and art work. So I have two arms, as it were. The works of Jacques Henri Lartigue and Diane Arbus inspire me. Juergen Teller too. I like free-spirited photographers who don't take themselves too seriously.
"On a recent shoot, Beth Ditto was great to photograph. She has great energy. She had a punky ethos and doesn't like to plan too much, and I related to that because you can plan a set up in photography, but you must leave it to the moment as well, because that's when the unexpected can happen," says Mary.
"I'm not very techy, so if I'm off doing some personal work it's just me and my film camera. But I also love my iPhone. I'm actually having to ween myself off my iPhone because I've started to take too many pictures with it. I recently bought a more high-powered digital camera, but I like shooting on film."
So it's a case of keeping it simple? "Absolutely. I like a constant light source rather than flash. I can also light an area in which a subject can move around. There's that technique. I also have to be able to go off on my own with a camera. I like the balance of these two modes of working because it keeps me interested. I like variety," she says.
Is there more she can achieve, having photographed a wide variety of politicians, celebrities and lesser-known sitters over her 20-year career? "I feel I've loads more to do. I'll be exploring more and shooting more and I've got so many projects I want to see come to fruition. I like taking portrait pictures of interesting people and I also rely upon requests. I have an agent, so I also get booked that way."
For her commercial work, Mary keeps a tight-knit production team, eschewing the large entourages of some contemporary big name photographers. "I like photos with a sense of humanity attached to them,' she says gently. 'I'm interested in photographing people who are devoted to their professions, such as the series of portraits I did with ballet dancers [
Off Pointe: A Photographic Study of the Royal Ballet After Hours
]."
"I'm attracted by people who invest time, thought and passion in what they do," says Mary. "I'll always be a photographer. It's my hobby and my profession. It's my love."
© Jason Holmes 2012 /
jantholmes@yahoo.co.uk
/
@JasonAHolmes
Photograph by Simon Aboud
www.huffingtonpost.co.uk