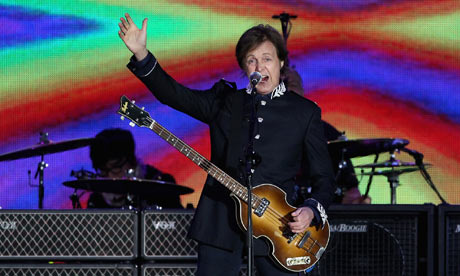 Music stars Jay-Z, Kelly Rowland and Paul Weller have sent their best wishes to SIR Paul McCARTNEY ahead of his 70th birthday.
The Beatles icon reaches the milestone age on Monday (18Jun12), and a host of stars have offered up tributes to celebrate the big day.
Rapper Jay-Z says, "He's a genius writer, he changed music - he has always been ahead of his time," and Destiny's Child star Rowland adds, "Paul McCartney is a true legend, he's written some of the most iconic tracks of all time. I have always been a huge fan and would like to wish him a very happy birthday!" Take That frontman Gary Barlow says, "Happy birthday to a legend and a top bloke. What do you get the man who has everything for his birthday? Many happy returns Paul," and actor James Corden insists, "I don't know if there will ever be a more important presence in music. He is as integral to the landscape of Britain as fish and chips and bad weather. I feel honored to know him. Happy birthday, Paul".
Weller, who is releasing a cover of The Beatles' track Birthday to mark the occasion, has recalled his first meeting with his hero in a column for Britain's The Sun.
He writes, "It was early '82 at AIR studios - George Martin's studios which were near Oxford Circus. We were recording the last Jam album The Gift while Paul was recording in the studio next door. He was sweet and took time out to speak to us and listened to what we were doing. "I don't know Paul in a particularly close way but I've met him a few times and he's always been as sweet as a nut.
Whenever I see Macca there are so many things I want to ask him but I get nervous and it all goes out the window".